Temperatures are starting to fall after a cold front passed through the area yesterday afternoon, and will continue to fall throughout the week. Clouds will begin to clear later today and overnight as high pressure moves in. A deep upper-level trough is responsible for very cold arctic air funneling into the region mid-week. The coldest temperatures will be felt Wednesday and Thursday with daytime highs in the low 20s. Please take any precautions necessary to prepare for single digit temperatures during the nighttime. The GFS Surface Temperature map for 6 am Thursday morning shows temperatures around 5 degrees across most of Kentucky.
According to the Climate Prediction Center, we have a slight probability of being cooler than average in the next 6-10 day forecast. Temperatures should become more normal later in the week as the high pressure makes its way out of the area and winds become more southerly.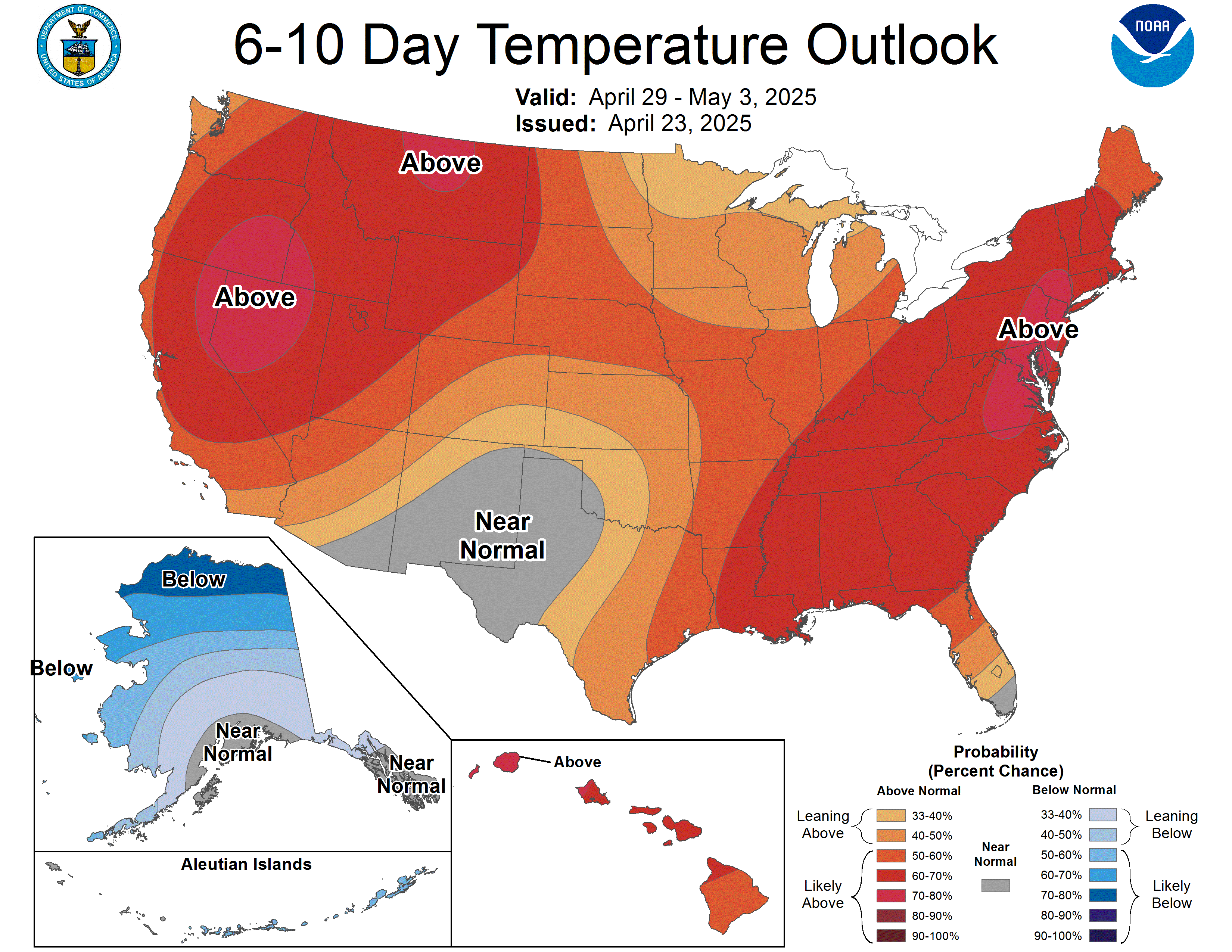 Be sure to stay warm this week and check back again on Thursday for the weekend forecast!
Bowling Green's 5 Day Forecast:
Today: A 40 percent chance of showers, mainly after 2pm. Mostly cloudy, with a temperature falling to around 39 by 5pm. West wind 14 to 16 mph.

Tonight: A 20 percent chance of showers before 7pm. Partly cloudy, with a low around 21. Northwest wind 8 to 15 mph, with gusts as high as 28 mph.

Monday: Sunny, with a high near 29. Northwest wind 3 to 7 mph.

Monday Night: Partly cloudy, with a low around 24. Light and variable wind becoming south 5 to 8 mph in the evening.

Tuesday: Mostly sunny, with a high near 41. Southwest wind 8 to 13 mph becoming west in the afternoon.

Tuesday Night: Mostly cloudy, with a low around 20.

Wednesday: Mostly sunny and cold, with a high near 22.

Wednesday Night: Mostly clear, with a low around 3.

Thursday: Sunny and cold, with a high near 21.

Thursday Night: Mostly clear, with a low around 17.