As of 11:43 am, The Storm Prediction Center has places the Bowling Green/Warren County area in a marginal risk for severe weather. This means that limited organization is expected over our area with this system.
As of right now, it looks as though the worst of the storm will be in Northern Missouri, Southern Iowa, and Western Illinois. And it appears that the storms will be significantly weaker when arriving.
As of 7pm on Tuesday, you can see that a high pressure system is located over top of our area, but that will shift off to the east as we move into Wednesday night. This will also allow us to have slightly warmer temperatures for tomorrow than we did today.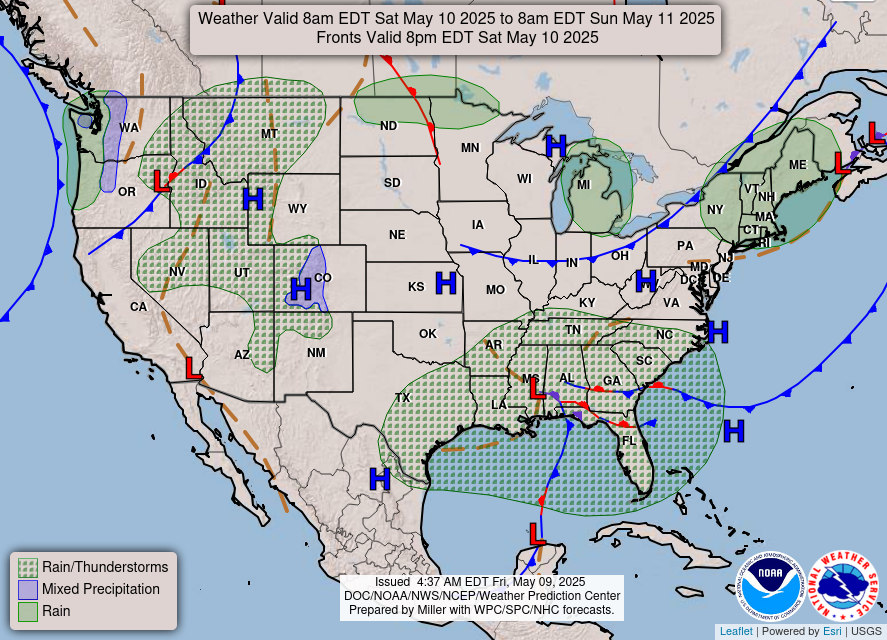 The image above is issued for tomorrow at about 7 am, putting the low pressure system over the middle of the country. This low pressure system will be passing over our area during the overnight hours, probably around 3 am (Though this is subject to change). The thing that can be most expected from this system at this time is some non severe thunderstorms with some heavy winds.
Five Day Forecast:
Tonight
Clear, with a low around 41. Calm wind.
Veterans Day
Increasing clouds, with a high near 72. Light southeast wind becoming south 5 to 10 mph in the morning.
Wednesday Night
Showers and possibly a thunderstorm. Low around 53. South wind 9 to 17 mph becoming west after midnight. Winds could gust as high as 28 mph. Chance of precipitation is 100%. New rainfall amounts between a tenth and quarter of an inch, except higher amounts possible in thunderstorms.
Thursday
Mostly sunny, with a high near 63. West wind 9 to 16 mph, with gusts as high as 25 mph.
Thursday Night
Mostly clear, with a low around 39. West wind around 6 mph.
Friday
Sunny, with a high near 55.
Friday Night
Clear, with a low around 31.
Saturday
Sunny, with a high near 55.
Saturday Night
Clear, with a low around 34.
Sunday
Sunny, with a high near 62.
Sunday Night
Partly cloudy, with a low around 40.
Forecaster: Dustin Egbert